Welcome to contact with Groupeve, we are here to trust you, assist you, support you and achieve both of us, our goal is to supply the best quality fabrics at the moderate price, to make where there is sunshine, there is Groupeve, every effort, friendship, cooperation, business, will with the brand name of Sunetex® and Magicaltex®.
If you interest, please feel free to contact
JUDY JIA
Whatsapp: +86 15208497699
Email: business@groupeve.com
Specification for G2000 Series 
Composition:
30%Polyester, 70%PVC
Standard Width:
200cm, 250cm, 300cm
Standard Length per Roll:           
30m (not fixed width because of quantity control system)
Weight:
420g±5%
Brand Name:
Sunetex

Blackout Rate:

Semi blackout

Fireproofing Grade:
GB 50222-95 B1 Grade
Anti-Bacteria Standard:
ASTM G21
Fire Classification:
NFPA701(USA)

Supply Type:

In Stock Item

Color:

White, Gray,customize

Clean and Maintain:
1-Please use dust collector to clean the ash.
2-Don't scrub in by hand or washing machine.
3-Please don't use any cleaning agent, which might against the PVC coating.
4-Don't rub it with rough material either.
5-Please wash it with soap, and then with clean water, finally hang it up straight to dry it naturally

Another advantage of this sunscreen fabric is its versatility. It can be easily customized to fit a variety of shapes and sizes, making it a popular choice for both residential and commercial applications. Additionally, the sunscreen fabric comes in a range of colors and patterns, allowing homeowners and businesses to select the perfect design to complement their outdoor spaces.
One consideration when using anti-UV PVC coated sunscreen fabric is maintenance. While the fabric is highly resistant to weather elements, it should still be cleaned regularly to maintain its appearance and functionality. Fortunately, the fabric can be easily cleaned with a mild soap and water solution.
In summary, anti-UV PVC coated sunscreen fabric is a durable, versatile, and highly effective material for outdoor shades and awnings. Its ability to block UV rays, resist weather elements, and provide customization options make it a top choice for homeowners and businesses looking to enhance the functionality and appearance of their outdoor spaces.
Groupeve has three own factories, one is to produce components of all blinds(Sunewell®), the other is to assemble finished blinds (Bottontrak®, Sunetrak®), and the third one is to produce roller blinds fabric (Sunetex®, MagicalTex®, Aputex®). It all covers an area of approximately 25,000m². We have over 500 employees and already passed the factory audit from BSCI, ISO9001: 2000 quality standard system.
After 20 years of developing experience, now we manufacture and supply Components & Accessories of Vertical Blinds, Common Roller Blinds, Zebra Blinds, Shangri-La Blinds, Bamboo Blinds, Crank Roller, Spring Roller Blinds, Roman Blinds, Horizontal Venetian Blinds, Pleated Blinds, Panel Blinds, Plated Blinds and Honeycomb Blinds. Such as Aluminum Profile, Blinds Cover, Blinds Tube, Blinds Bottom Rail, Chain, Head Track, Ceiling Clip, Roller Blinds Mechanism, Cord Drive Runner, Cord Weight, Wall Bracket, PVC Double Tape, Slat Weight etc.
For certifications and test reports, we have details as below:
CE
SGS
ROHS
GOTS
COLOR FASTNESS TEST
OEKO-TEX STANDARD 100
SHADING COEFFICIENT TEST
CERTIFICATE OF CONFORMITY
INTERTEK ECO-CERTIFICATION
FIRE RETARDANT NFPA701(USA)
GREEN GUARD GOLD CERTIFICATE
ANTI-MILDEW ANTIVACTERIAL TEST, ECT.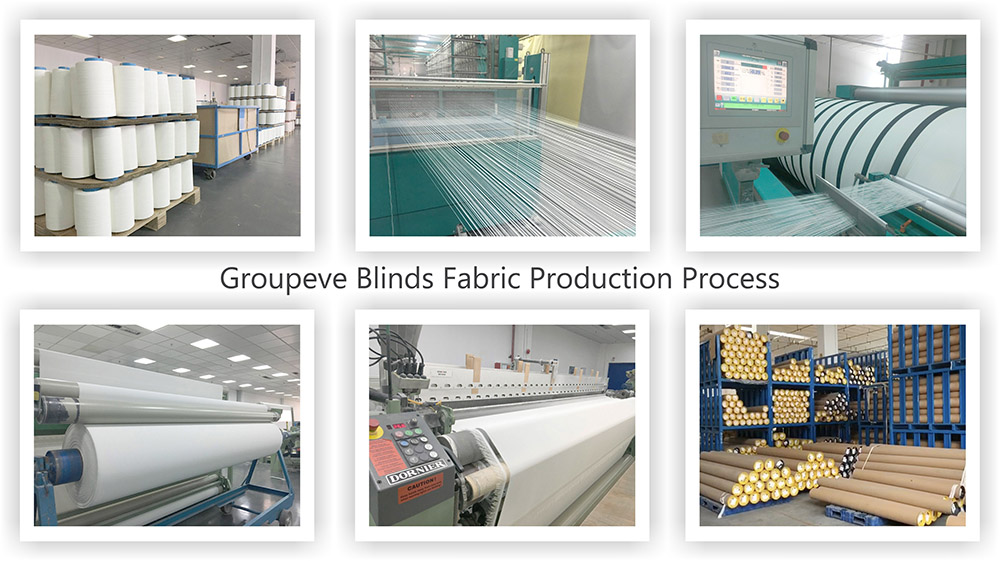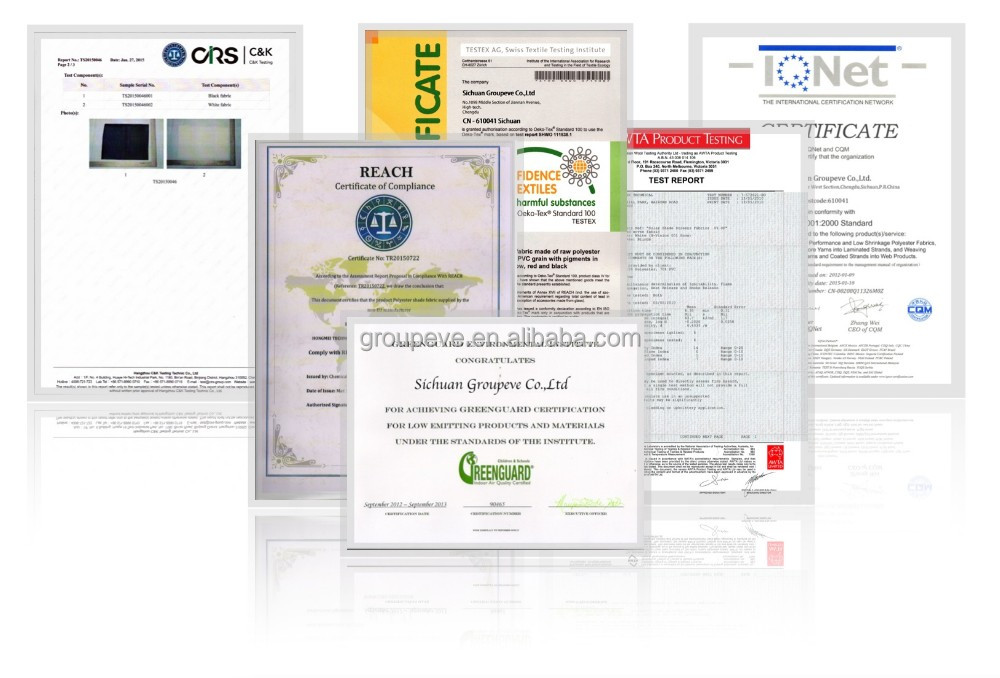 1. Well Organized Between Glass Integral Semi Blackout Zebra Fabrics For Roller Fabric Zebra Window Roller Blinds Shade Shutters Sunscreen Fabrics
2. In Polybags inside packing
3. Outside in Paper Tube Packing.
4. Every tube has an unique bar code which can be tracked in the whole producing, shipping & delivery process.

5. Packing size:
* For fabric with 2m width: 2.15mx0.2mx0.2m; Measurements:0.086CBM
* For fabric with 2.5m width: 2.65mx0.2mx0.2m; Measurements:0.106CBM
* For fabric with 3m width: 3.15mx0.2mx0.2m; Measurements:0.126CBM
* For fabric with 3.2m width: 3.35mx0.2mx0.2m; Measurements:0.134CBM

Strict quality control to ensure that the fabric utilization rate is greater than 95%. Factory direct selling price, no distributor earns the price difference. With 20 years experience for sunshade products, Groupeve has professionally served 82 countries clients worldwide. With 10 years quality warranty to ensure continuous cooperation. Free samples with more than 650 kinds of fabrics to meet regional market needs. No MOQ for most of items, fast delivery for customized items.